Unrivaled ease of adaptation
efluid adapts perfectly to all environments and all functional scopes thanks to its additional layer of configurable modules. The implementation and updating of the system are thus made much easier, improving performance results for the entire organization. This capacity to adapt considerably reduces the time to market and provides a lasting competitive advantage.
Functional domains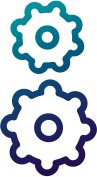 Configuration modules
The product offer is a flexible concept used to manage various products aimed at customers (electricity, gas, water/sanitation, urban heating, cable television) and to segment customers by assigning them application criteria (for example a customer category or a geographical sector).
The product offer is used to define a large number of parameters, in particular:
the tariffs of all items with their associated taxes (expenses, guarantee deposit, subscription, advance installment, consumption, etc.),
the conditions for access, modification and termination of the service: this involves configuring the behavior on subscription, modification or termination of a contract,
presentation of the bill,
meter reading and billing schedules,
collection policy.
efluid is thus used to configure and upgrade any product offer aimed at the customer, or to respond to the regulatory updates in record time, through a simple configuration.
efluid is used to manage all hardware configurations on the market (traditional or smart metering, etc.) using a powerful configuration module.
Its flexibility also offers peace of mind when it comes to future upgrades to equipment and hardware.
efluid can easily interface through configuration with the general and auxiliary accounting of the customer IS, feeding the various accounts used to generate precise analytical accounting.
The concept of a workflow expands that of a campaign, opening up for the user the possibility of configuring their own processes through the assembly of stages, sequencing conditions and bulk or transactional processing.
The user can for example have specialist processes for the recruitment of new customers, connection to the network or cyclical interventions.
This module is used to precisely define the settings specific to each company, whether they be a distributor, marketer or an integrated stakeholder.
A solution open to exchanges
The high exchange capacities of the efluid suite ensure a quality customer relationship, for example through a complete online agency, or through interaction with the customized OpenText StreamServe DTP solution.
All business services of the efluid suite can also be accessed through various specialist or general public portals, either already configured, or which can be customized by the supplier or distributor customer using an extended library of REST services.